Our Vision

Drive Social Change through Empowerment of Women


Our Mission

A community that continues to nurture'the LSR spirit of liberation through knowledge' and transforms lives through sustainable support and action



Executive Committee


Rashmi Misra,
Ex-officio
Batch of 1971


Vinita Sethi,
President
Batch of 1985


Nelofer Currimbhoy,
Vice President
Batch of 1977


Anam Hamid,
Hony. Secretary
Batch of 2011


Parool Trehan,
Hony. Treasurer
Batch of 1982


Smita Mankad,
Member
Batch of 1992


Shivani Wazir Pasrich,
Member
Batch of 1991


Vandana Sarin,
Member
Batch of 1977


Ritu Sud Mathur,
Member
Batch of 1989


Gayatri Srivastava,
Member
Batch of 1996


Saveera Dugal Bahl,
Member
Batch of 1990


Puneet Sikka,
Member
Batch of 2007


Preeti Lamba,
Member
Batch of 1994


---
ELSA Chapters

Bangalore

Vinita Bali,
Batch of 1975

Mumbai

Anu Misra,
Batch of 1993


Gesu Kaushal,
Batch of 1993

GCC Chapter

Ritu Arora,
Batch of 1979
ELSA Talks
Focusing on issues from gender stereotypes to parity and management....

First panel discussion: "Tackling gender stereotypes at work" -November 4, 2017 at IHC, Delhi.

Great participation and and prolific discussion by our Panelists
• Shazia Ilmi, Vice President, Delhi BJP
• Anjali Singh- SVP and COO, Banking and Financial Services, Genpact
• Rama Lakshmi, Editor Opinion & Social Media, The Print
• Varun Rana, Professor NIFT, former features Director at Harper's Bazaar
• Sanjiv Sarin, Managing Director and CEO, Tata Coffee Limited

Shivani Wazir Pasrich, Member, EC ELSA (CEO, SWP Productions) moderated the talk.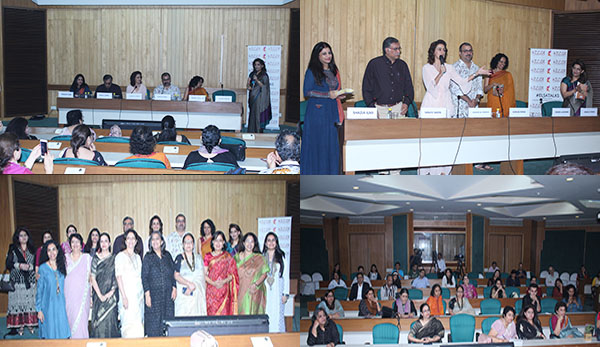 Dr Meenakshi Gopinath, mentor ELSA and former Principal LSR set the tone for the deliberations with her inspiring words, and Dr Kiran Walia, member INC urged ELSAs to implement more on field activities for the underprivileged.

Not only did the panelists share their experiences from the world of politics, journalism to corporate and day to day lives, but also identified specific challenges where stereotypes exist for both men and women.

Tackling them is not easy but doable- change in attitude is a must! There is also a lot that women can do to "lean in" and support their fellow women co-workers.

Our male panelists also shared useful perspectives and contributed greatly by suggesting ways in which the sterotyping issues can be handled better at work places.

Eagerly await the next ELSA Talk....

events@lsralumna.org
Delhi Heritage Walks with Sohail Hashmi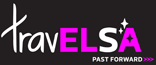 travELSA Past Forward
November 5, 2017: ELSA EC organised a Lodhi Garden walk with Sohail Hashmi through TravElsa, followed by sundowners at the Lodi Restaurant. We were delighted to have over 20 participants that included elsas and their families. It truly was an enlightening and magical experience walking through Delhi's rich history in the city's famous gardens.

Follow 'TRAVELSA - LSR alumnae travel hub' on Facebook for upcoming trips!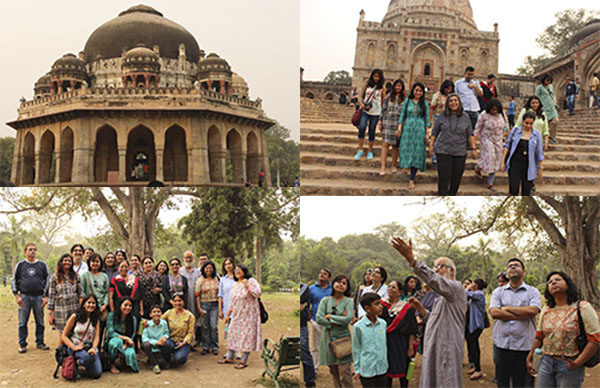 travelsa@lsralumna.org
Down Memory lane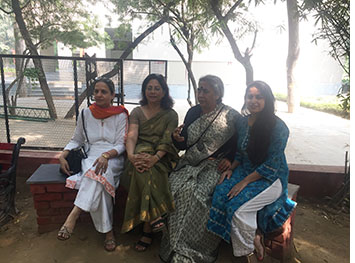 Visit to College and tea with Principal, Dr Suman Sharma

New EC members called on LSR Principal, Dr Suman Sharma and spent a lovely morning discussing projects where ELSAs can contribute. From creating herb garden on campus to adopting parts of the greens to adding eco-friendly benches in the lawns, contributing to the auditorium upkeep, designing walls' graffiti to adding desktops in the Library.

More important to stay connected with our beloved alma mater.

info@lsralumna.org
ELSA HUB
We would like to introduce to you a feature on the ELSA website called the ELSA HUB.

The ELSA HUB provides you a platform to showcase your products and services to the alumni community. It is a brilliant marketing tool available to you to advertise and reach out to people of the fraternity who visit this website. It's a marketing tool which comes absolutely free of cost and fellow alumnae have been seen to be very forthcoming in support. All it takes is for you to go online, fill up a small form and write a couple of lines about your product / service offering.

Please avail of this very useful feature and add teeth to your trade. To register click here You may reach out to me at + 91 9811199903 or at ritu@megriar.com for any clarification and I can assure you from my personal experience that the ELSA HUB works.
Happy Selling!
Bangalore Chapter
Decoupage workshop -- On a Creative High

Bangalore Elsas have been on a creative high. Delving deep into the world of art and craft, they have been busy honing their creativity skills and finding expression to their innate talent. A Decoupage series by our talented Elsa, Roopsi Jain, amidst fun and laughter, inspired Elsas to think differently. Aanchal Sagar opened up her lovely home. "I was meeting many Elsas for the first time but it turned out to be one of the most enjoyable afternoons. What is better than getting to know each other while creating pieces of art! The Elsa energy is infectious. Look forward to many more such fun and inspiring sessions," smiled the gracious hostess. While Roopsi quietly observed, "With great trepidation and hesitation, we started work on our projects. Slowly the girls gathered confidence."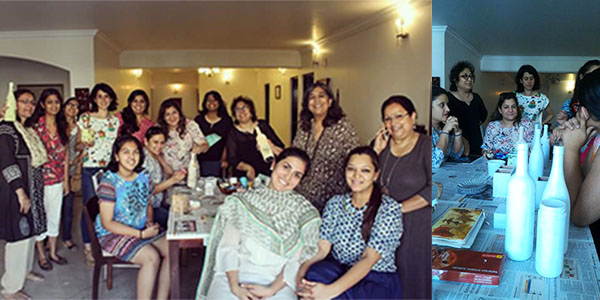 When Elsas put their mind together, it's magic all the way. And to have a patient and able guide is a blessing. "The decoupage workshop held by Roopsi for other Elsas was an absolute treat! In a couple of hours, uninteresting bric a brac transformed into works of art, all over cheerful banter and food! Can't wait for more such sessions where we meet up, learn and get inspired," quipped Sumona Bagchi.

At the end of the day, each Elsa carried back their lovely creation to honour a special corner of their home. Roopsi, then followed this up with an advanced session at the beautiful home of Linika Kumar. As each discovered their strength and weakness, the team has come a long way under Roopsi's guidance. Those who attended these series are almost professionals and continually experimenting on different surfaces sharing the joys and disappointments of their creations, inspired and supported by one another.

SURE IS THERAPEUTIC
A block printing workshop was held in October and some of our ELSAs plus representatives from Swastha Coorg and Vidya Bangalore(NGOs), attended. This workshop was conducted by Pooja Gokul and coordinated by ELSA Pragya Jain. We saw an array of wooden blocks of all sizes and beautiful designs. We were asked to chose a block and take our places. This was the most difficult task as each block was better than the other! It felt like being back in school. A vibrant tray of colour was kept on each table and we had to block print 3 sheets with different blocks and colours. Each step was followed by instructions. We also had to use our creativity to place the blocks in the right place and print designs that would both look attractive and have some method in the thinking and execution.



We printed on cloth bags and then our stole. Two and a half metres of pure white soft stoles were given to each of us. With much deliberation on choice of blocks and colours we were proud of our creation and even paraded around happy with the end result !

Believe me, all these creative crafts may not make you an artist overnight, but it sure is therapeutic.
UK Chapter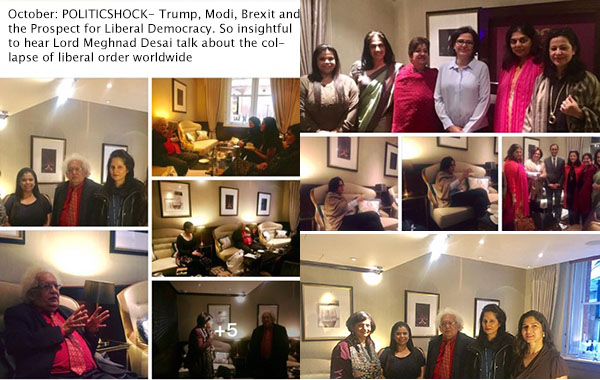 Mumbai Chapter
Literary Project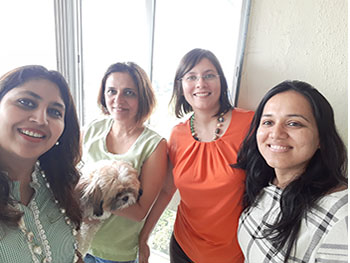 Members of the ELSA Mumbai chapter met at Elsa Sangeeta Gupta's house on Oct 28th to discuss a collaborative literary project. Tentatively called 'The Blue Sky' project, this is an attempt to put together inspirational stories about Indian women across ages from a feminist viewpoint.

Over a delicious papdi chat, pakodas and steaming tea, diverse views and thoughts were exchanged.



Seminar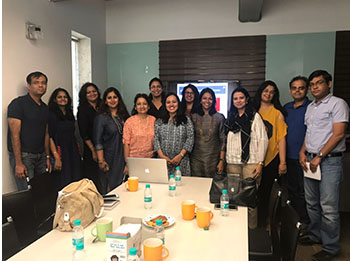 Elsa Purvi Tantia conducted a seminar on 'Overseas Education' for high school parents of ELSA Mumbai on November 4th at her cheerful office in Worli.

The session covered aspects of the admission process for undergrad study abroad. Thanks Purvi, for the excellent presentation.
#ELSAChangemaker
Your chance to recognise and use this tag to identify an ELSA (LSR alumna) on Twitter/Facebook; She will be an LSR alumna who is making an impact in her community, work place, be it corporate world, NGOs, education, administration, sports etc.

Do log on to Twitter and tag her. We are creating a repository of ELSA Changemakers and your contribution matters!!

ELSAs making a difference- the LSR Effect

SAHAS Foundation (ELSA Mona Yadav)- Enabling gender education
Sahas Foundation, run by Elsa Mona Yadav, is an NGO providing adolescents with "Gender Sexuality and Reproductive Health" education. Sahas is collaborating with ELSA Chandni Singh (an IAS Oficer at Baghpat) in U.P to implement a gender intervention with 60 womenfor the effective implementation of NRLM Government Policy.



More on Mona and Sahas Foundation at www.sahasfoundation.org

Azad India Foundation (Yuman Hussain) - Woman empowering other women
An ELSA of the 1994 batch, Yuman Hussain runs Azad India Foundation, an NGO in Kishanganj, one of the least literate and poor districts of Bihar. She set up AIF in 1998, when it was almost taboo for women, especially daughters-in-law, to venture out of their homes in a predominantly minority community in Kishanganj. With support from Yuman's progressive mother-in-law and husband, AIF started its first stitching center and non-formal learning center at Chattargach village.



Currently more than 3500 children, half of them girls, are studying in the learning centers. Yuman has trained and mentored young girls and boys from the community who work as teachers and community mobilizers in different villages.

More information about AIF is available on the website: azadindia.org
Growing Community
We welcome our new Members :
Preeti Maroo, B.A.(Hons.) Economics, Batch of 1985
Vandana Gupta, B.A.(Hons.) Philosophy, Batch of 1977
Srishti Sogani, B.A.(Hons.) Philosophy, Batch of 2102
Dr. Meeta Pandit, B. Com. (Hons.), Batch of 1995
Malavika Sharma, B.A.(Hons.) Economics, Batch of 1971
Madhuri Hingorani, B.A.(Hons.) Psychology, Batch of 1987
Upcoming Events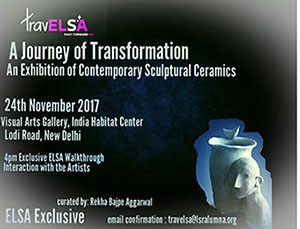 travELSA EXCLUSIVE NOV 24 @ 4PM Don't miss the opportunity of an exclusive walkthrough & artist interaction Yukuhara Furuno - Japan, Jane Jermyn - Ireland, Robert Laware - USA, Mirta Morigi - Italy, Hanibal Salvaro -Estonia, Rekha Bajpe Aggarwal, Shama Maira, Shweta Mansinghka, Kristine Michael, Adi Writer -India.




BAITHAK in Bangalore 26th Nov
Our ELSA nightingale, Malvika Nirajan (1996 batch) who has just returned from an extremely successful tour in New Zealand takes the lead along with her band of musicians DWI. She will also throw open the floor to others who would like to sing and join in. Culinary expert, Madhuri Hingorani (1987 Psychology) will have a spread of delicious food laid out for us.

The evening is open to Elsas and spouses. 4.30 pm -7.30 pm Nov 26 email confirmations to madhulikadant@hotmail.com